Prologue | Table of Contents | Chapter 8
It was the time of the Passover and certain Greeks had journeyed up to Jerusalem to worship. They heard about Jesus and came to Philip saying, "Sir, we wish to see Jesus." Philip told Andrew and in turn Andrew and Philip told Jesus.
After hearing this, Jesus said something that seemed completely off topic, "The hour has come that the Son of Man should be glorified. Most assuredly, I say to you, unless a grain of wheat falls into the ground and dies, it remains alone; but if it dies, it produces much grain."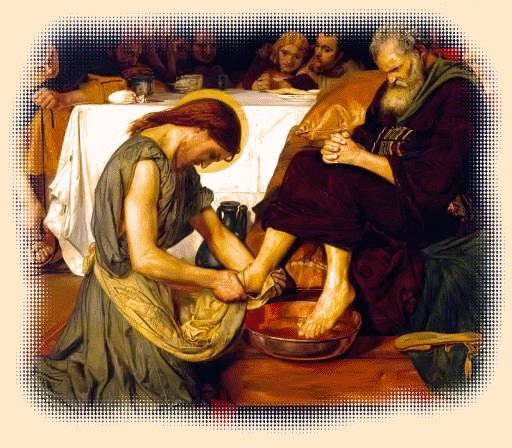 There is nothing in the gospel narrative that would indicate that Jesus ever took the time to see these Gentiles. Had He not heard their request? Yes, but He knew that the Gentile world could never see Him until He, like a grain of wheat, fell into the ground and died to bring many sons unto glory (Hebrews 2:10-11). The covenant that God made with Abraham, through which the Gentiles would be blessed, was all dependent upon this sacrifice. Without the cross the revelation of the mystery that was kept secret since the world began would remain hidden from the Gentile world (Romans 16:25). We see then that the cross is central to God's purposes.
After this Jesus turned His attention to His disciples, who had followed faithfully but had no concept of the path which lay before them. They clearly didn't understand how the grain of wheat principle of life and fruitfulness applied to them. Jesus explains, "He who loves his life will lose it, and he who hates his life in this world will keep it for eternal life. If anyone serves Me, let him follow Me; and where I am, there My servant will be also. If anyone serves Me, him My Father will honor."
What did Jesus mean? "If anyone serves Me, let him follow Me"? What did He mean when He said, "Where I am, there My servant will be also"? Follow Him where? Where was He asking His disciples to go? Jesus was going to the Father via the cross and the grave, and he who would follow Him must first deny himself and take up his cross (Mark 8:34, Luke 9:23). Yes, it is at the cross where His servants gather. For where He is, there His servants will be also. The Father bestows life and honor upon His servants who gather at the foot of the cross and have realized that the servant is not greater than his Master.
Then, as He so often did, Jesus turned his attention heavenward to the Father, acknowledging the purpose for which He came. "Now My soul is troubled, and what shall I say? 'Father, save Me from this hour?' But for this purpose I came to this hour. Father, glorify Your name." As we follow Jesus, sooner or later the cross will loom large upon our horizon. Sooner or later we will come to that place of decision and the long night in Gethsemane will test our resolve to follow on to Calvary. It is then that dissuading voices, crying, "Save yourself!" crescendo in our ears in thunderous and enticing tones (Matthew 27:40).
It is one thing to be enticed by the enemy with all that the world can offer, but quite another to have your dearest friends counseling you to go against what you know is the way that Father has put before you--a way that even your flesh is crying out against. On the one hand you are offered prosperity and success. On the other you are offered nothing in this world but suffering and death. Only faith is left to carry you through to the heavenly goal. All hangs in the balance. Will we save our lives or lose them? Will we choose the Father's purpose over our own comfort and say with Jesus, "But for this purpose I came to this hour. Father, glorify your name." If we follow Jesus, we too will grow in our passion for the Father's glory.
If we don't embrace the Father's purpose in the cross we will take up fleeing instead of following, saving ourselves instead of serving, avoidance rather than obedience. And our constant prayer will be, "Father, save me from this hour," as we lose our lives through seeking them.
The honest observer must admit that, typically, today's churches are fast becoming places of ease and entertainment that more resemble country clubs designed for the comfort of men than a company of servants who have taken up their crosses and exist for the glory of God. The hard word of the cross is avoided and the general condition reflects that the Father's honor is withheld. Why? The Father will only honor the cross-bearing-servant. The path leading to true authority and fruitfulness does not lead directly upward to the throne but onward to the cross, the grave and resurrection life. This is the path Jesus took. There shall His servant be also.
Prologue | Table of Contents | Chapter 8
to top