Chapter 1 | Table of Contents |
I, Michael, had a significant dream that God used to warn me of His intentions and what was about to happen in my life. About 1980 I dreamed that I was sitting on the front steps of my house on a beautiful sunny day, enjoying my beautiful well-kept yard, when a large truck pulled up across the street with a large Caterpillar tractor on the trailer. The driver got out, and started the bulldozer and was warming it up as I thought, "I wonder what the neighbors are up to with a big machine like that?" Well, I was soon to find out that it was not the neighbors that the driver was interested in. He backed the machine down off the trailer and headed it straight for my lawn! He tore up the grass, uprooted the flower beds and then next thing he hit was my house! I screamed at him to no avail. He didn't even act like he noticed me. Before he was done the whole lot was leveled and all that was left was a pile of rubble. Then he loaded up and drove off. I was left sitting there on a piece of my old steps, holding my head and asking God, "Why? Why have you taken this wonderful house away from me? Didn't you give it to me in the first place? Now I have nothing!"
We want to keep the old and add the new to it, but this is not the Lord's way. He always removes the first that has waxed old and replaces it with something new and living. He is the God of the new. He makes all things new! Don't expect the same thing that went into the ground and died to come up in a greater manifestation, either. If you plant a little seed, you do not get a big seed. Paul wrote to the Corinthian church:
But someone will say, "How are the dead raised up? And with what body do they come?" Foolish one, what you sow is not made alive unless it dies. And what you sow, you do not sow that body that shall be, but mere grain--perhaps wheat or some other grain. But God gives it a body as He pleases, and to each seed its own body.

(1 Corinthians 15:35-38 NKJV).
Through the prophet Haggai the Lord said,
According to the word that I covenanted with you when you came out of Egypt, so My Spirit remains among you; do not fear!' "For thus says the LORD of hosts: "Once more (it is a little while) I will shake heaven and earth, the sea and dry land; and I will shake all nations, and they shall come to the Desire of All Nations, and I will fill this temple with glory,' says the LORD of hosts. "The silver is Mine, and the gold is Mine,' says the LORD of hosts. "The glory of this latter temple shall be greater than the former,' says the LORD of hosts. "And in this place I will give peace,' says the LORD of hosts.

(Haggai 2:5-9 NKJV).
After this dream and other warnings, I eventually gave God permission to do what He knew had to be done for me to continue to grow in Christ and His kingdom. All heaven broke loose in my life. It was the start of an extended wilderness period that would remove everything that I once thought was a sure sign that God loved me and of what he had done so far in my life. My family and I went through many years of hardship after that, but the hardest thing was not being able to hear His voice any longer. I can now say that what I have on the other side is not worthy to be compared to the former things. God is good and He is the one who faithfully makes all things new (see 2 Corinthians 5:17 and Revelation 21:5).
I (George) am also quite familiar with God's bulldozer. Most of His dealings in my life consist of His stripping away the many false teachings and traditions of well-intentioned religious men, who led me away captive as a new believer. Since then, my pilgrimage can best be defined as Light dispelling darkness. With each unveiling of Christ, superstitions that I once thought fundamental and indispensable were exposed as the beggarly garment they truly are. I have been freed from a vast amount of superstition and ignorance so far, and am learning who Christ really is! I am learning not to fear the bulldozer as I become more and more convinced that crisis is change. Through much tribulation we enter the kingdom. We cannot come into the full realization of this vast New Covenant before our idols are struck in their feet by the Stone cut without hands. The iron of Roman imperialism and the humble clay of the body of Christ mixed together is coming to an end. Don't fear the loss of earthly institutions and your position in them! Don't agonize over the loss of visible, carnal ceremonies and traditions. God was done with those two thousand years ago it's about time we followed His lead. Everything we have put our trust in, other than Christ, must be crushed to powder and blown away by the Wind like the chaff at the summer threshing floor! Amen! Make it so, Lord!
God bless you as you cooperate with Him in bringing about the fullness of Christ in His body.
---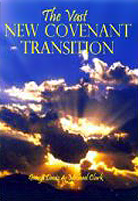 This article is available in book form. See our Books in Print page for more information.
to top